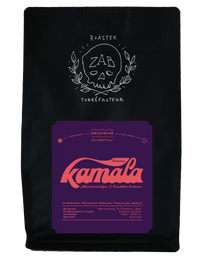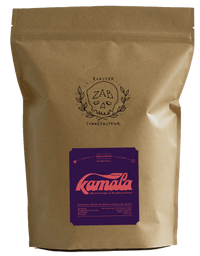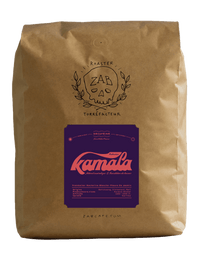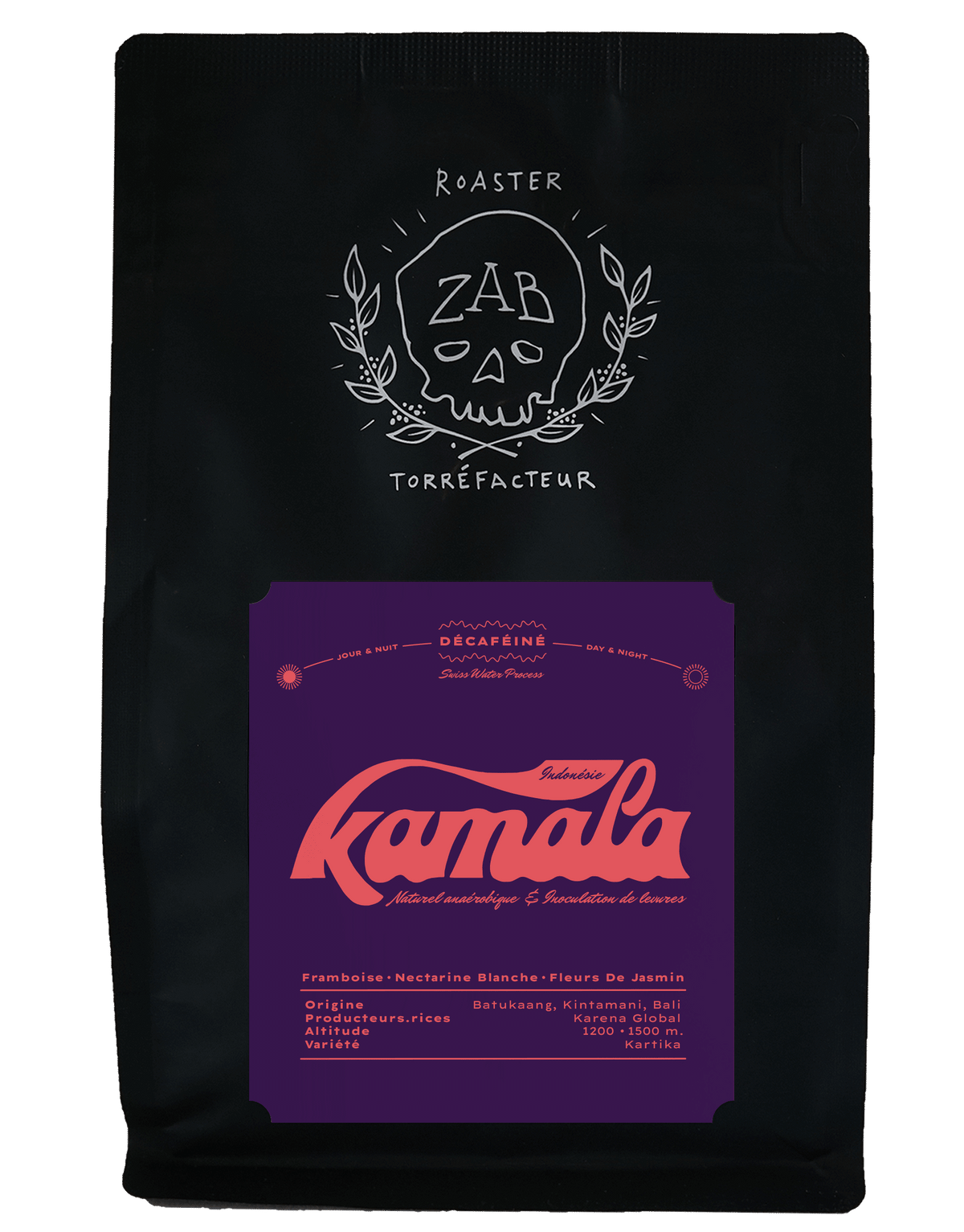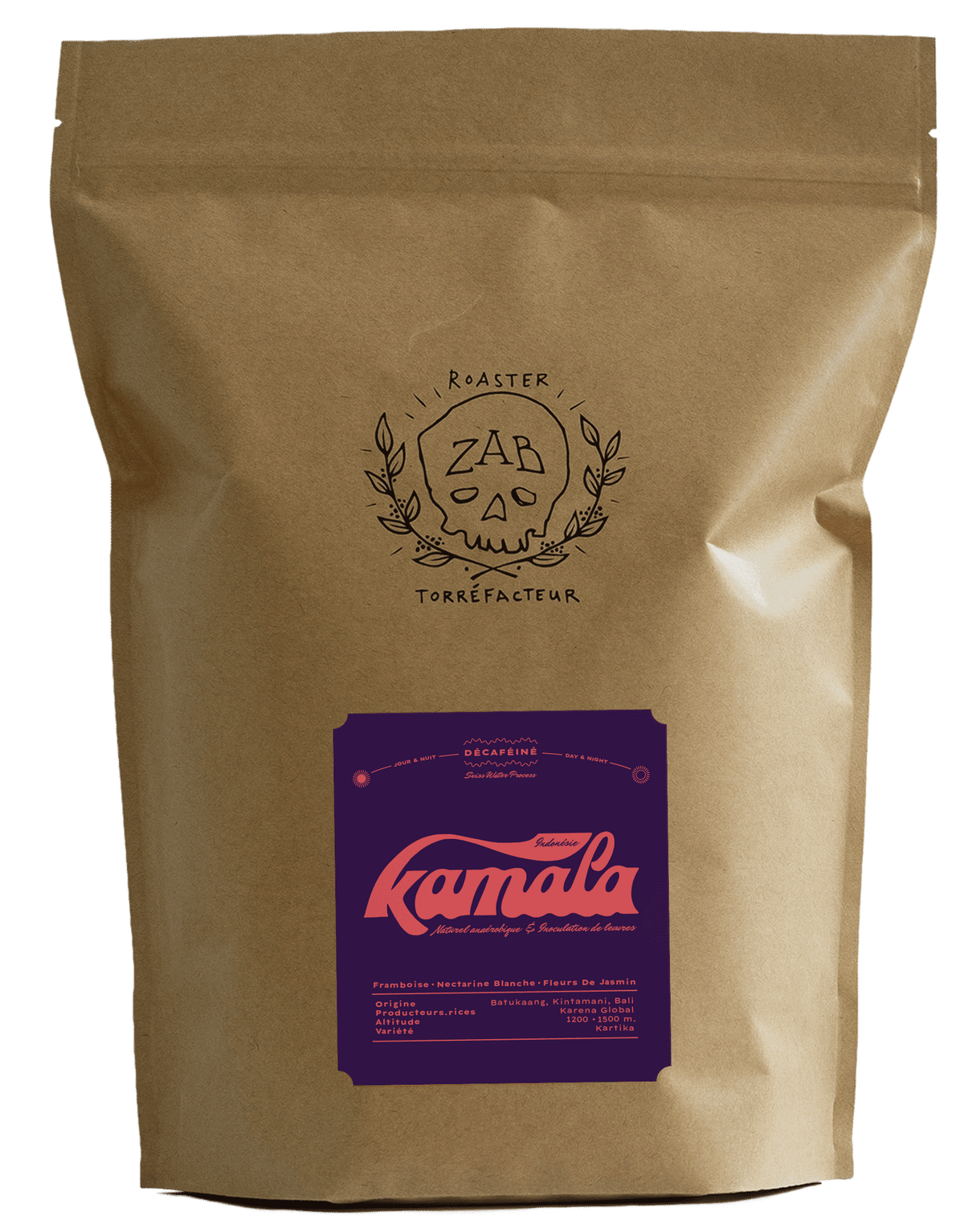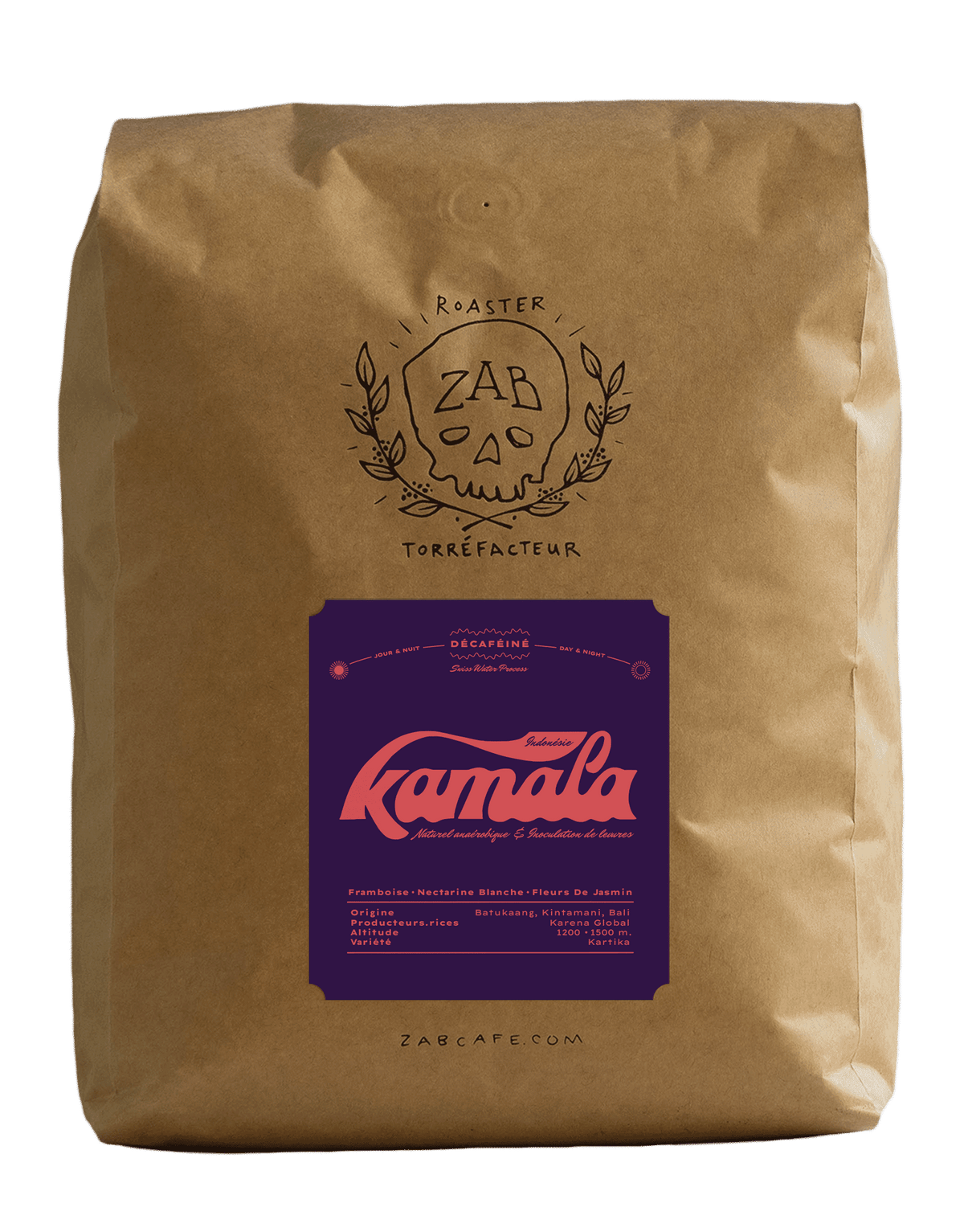 DECAFFEINATED - INDONESIA - KAMALA (NATURAL ANAEROBIC
Regular Price

$23.00

Sale Price

$23.00

Regular Price

Unit Price

per
RASPBERRY + WHITE NECTARINE + JASMIN FLOWER

SOURCING


ORIGIN
Batukaang, Kintamani, Bali, Indonesia
PRODUCERS
Karana Global
VARIETALS
Kartika
PROCESS
Natural anaerobic + inoculated yeast + decaffeinated (Swiss Water)
ALTITUDE
1200-1500 MASL
PARTNERS
Forward
LOT SIZE PURCHASED
300 KG
FOB
5.23 US/LB
PRICE DECAFFEINATED + DELIVERED
10.31 CAD/LB
RELATIONSHIP
1 year / 2 lots
The Pledge : transparency.coffee
Kamala was cultivated by a group of farmers in the Batukaang area who came together to make coffee growing profitable for themselves and their families. They worked together to improve picking techniques and processing, and over the years have become one of the most innovative groups in terms of fermentation techniques.

They have partnered with Catur Coffee Co, who are committed to being agents of change in the Indonesian coffee industry. They are developing techniques to raise quality and ensure consistency, allowing growers the appropriate recognition and remuneration for their work. They are experimenting with yeasts cultured from land where they will be used, which are added to the coffee cherries before fermentation. They help guide the fermentation and thus ensure the quality and its specific flavor profile.

Together they created Kamala. The result: a fruity coffee, with a boozy taste and citrus. The best part? Forward, our import partner, has decaffeinated the beans of this funky coffee, allowing us to offer you a decaf that is completely out of the ordinary.

Source: Forward


RECOMMENDED PARAMETERS FOR ESPRESSO

| | |
| --- | --- |
| GROUND COFFEE | 18 G |
| COFFEE IN THE CUP | 36 G |
| EXTRACTION TIME | 29 SEC |
My Favorite Decaf so far!
I usually drink light/medium roasts in the morning with a lot of acidity and character but it's hard to find that in a Decaf. So I am usually stuck drinking roasts that are much darker than I would usually enjoy when I switch to Decaf in the evenings. With this one I don't feel like I have to make that compromise. I still get a ton of fruity character in this which I really appreciate!
ZE best déca qui goûte pas le déca!
Ça dit tout! C'est sincèrement le meilleur décaféiné que j'ai bu! J'en aime d'autres mais chaque fois que je me fais celui-là y'a un p'tit plus! Je le recommande à tous mes amis!
Kamala
Je n'ai pas encore pris le temps de le déguster
DÉCAFÉINÉ - INDONÉSIE - KAMALA (NATUREL ANAÉROBIQUE)
Love it
Je suis pas très V60 / Chemex / Drip mais je me suis quand même laissé à le tester en shot d'espresso direct sur des glaçons, avec un bon lait 3.8%.
C'est vraiment bon, on sent le fruit à noyaux à fond et je peux m'en faire toute la journée vu que c'est un décaf héhé.
Beau café ❤️
Amazing!
This is a beautiful cup of coffee.
Decaf
Wow! :) excellent décaféiné qui ne ressemble pas à un décaféiné.
incroyable 🤩
définitivement la meilleure option décaféiné pour amateur de café funky
Enfin un Décaf de calibre
J'ai eu la chance de l'avoir goûté en primeur lors du festival Café Collectif il y a 2 semaines... je n'ai pas hésité de m'en procurer 2 lbs une fois apparu sur le site.
Malgré un procédé anaérobique et de note prédominante de framboise, l'acidité est bien balancé pour laisser un café juste agréable à déguster du début jusqu'à la fin. (je viens de finir mon 1er V60)
Si vous étiez en recherche d'un bon décaf de spécialité d'après-midi/soirée, ne cherchez pas davantage.
Décevant
Je suis malheureusement déçu compte tenu du procédé, du profil et du prix. Mes attentes étaient potentiellement trop hautes, mais ça demeure assez conventionnel. Évidemment, si on compare au mainstream decaf c'est intéressant. Par contre, j'ai bu du meilleur decaf et low caf. La provenance du grain y est sans doute pour quelque chose, ayant très rarement bu des cafés asiatiques rivalisant avec ce qui se fait ailleurs malgré des procédés intéressants. Mais bon, c'est aussi le but du fait d'encourager ces producteurs.
Salut Mike! On trouve ça plate que le Kamala te déçoive, mais ça l'arrive! De notre côté, on trippe ben raide sur ce café! Si tu aimerais en discuter plus, tu peux nous écrire à shop@zabcafe.com. Merci de l'avoir essayé et de nous encourager :)