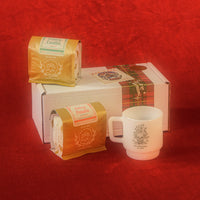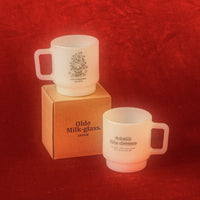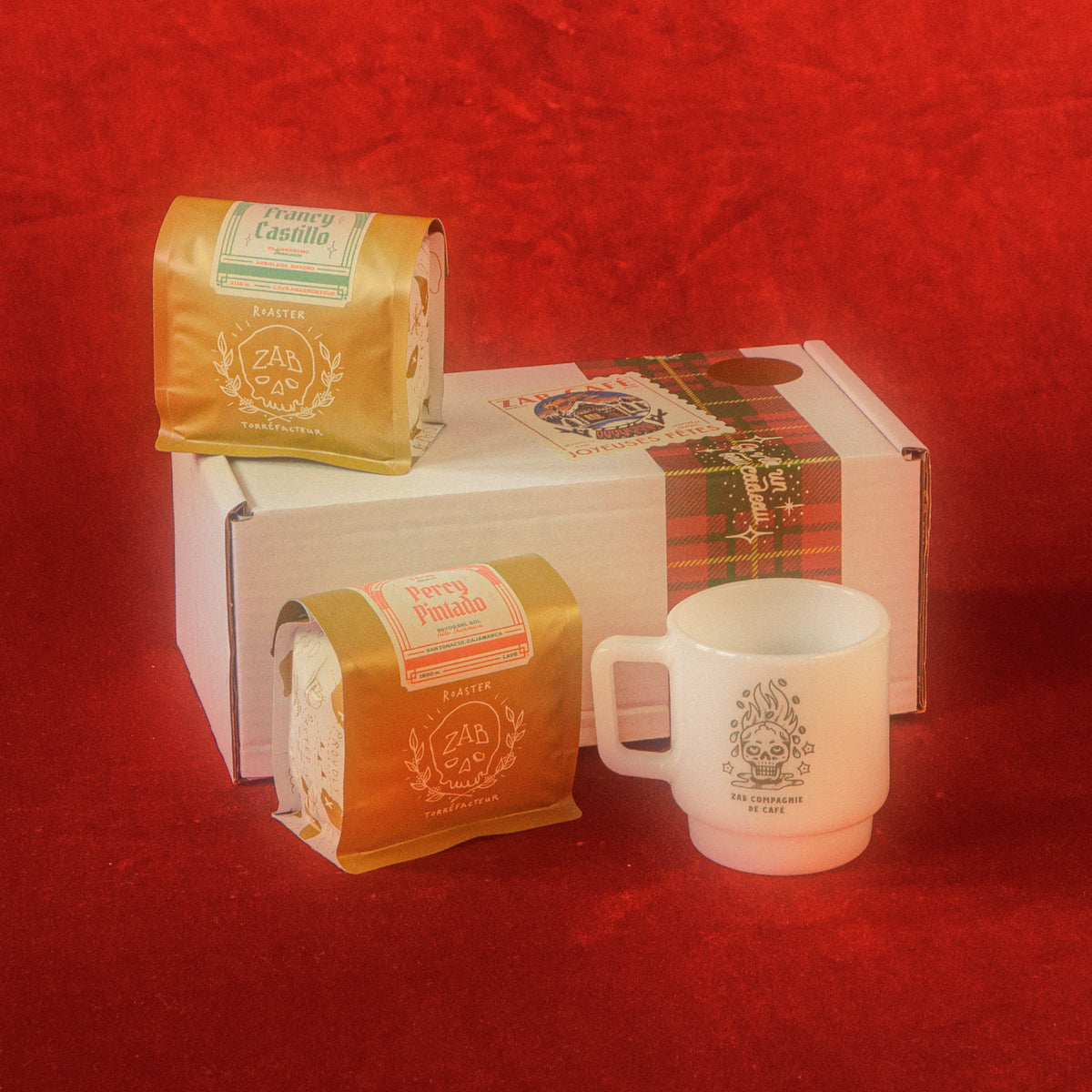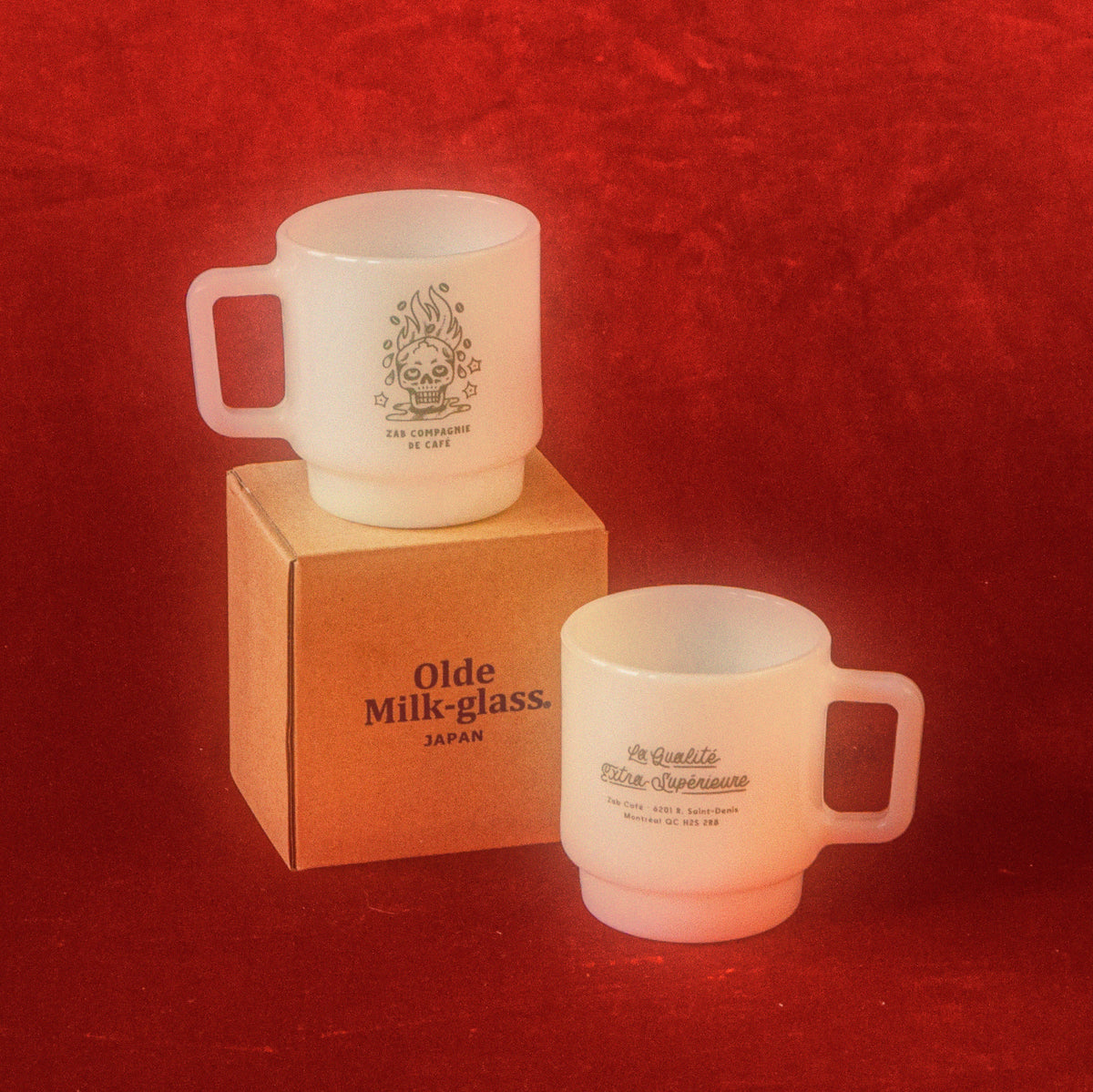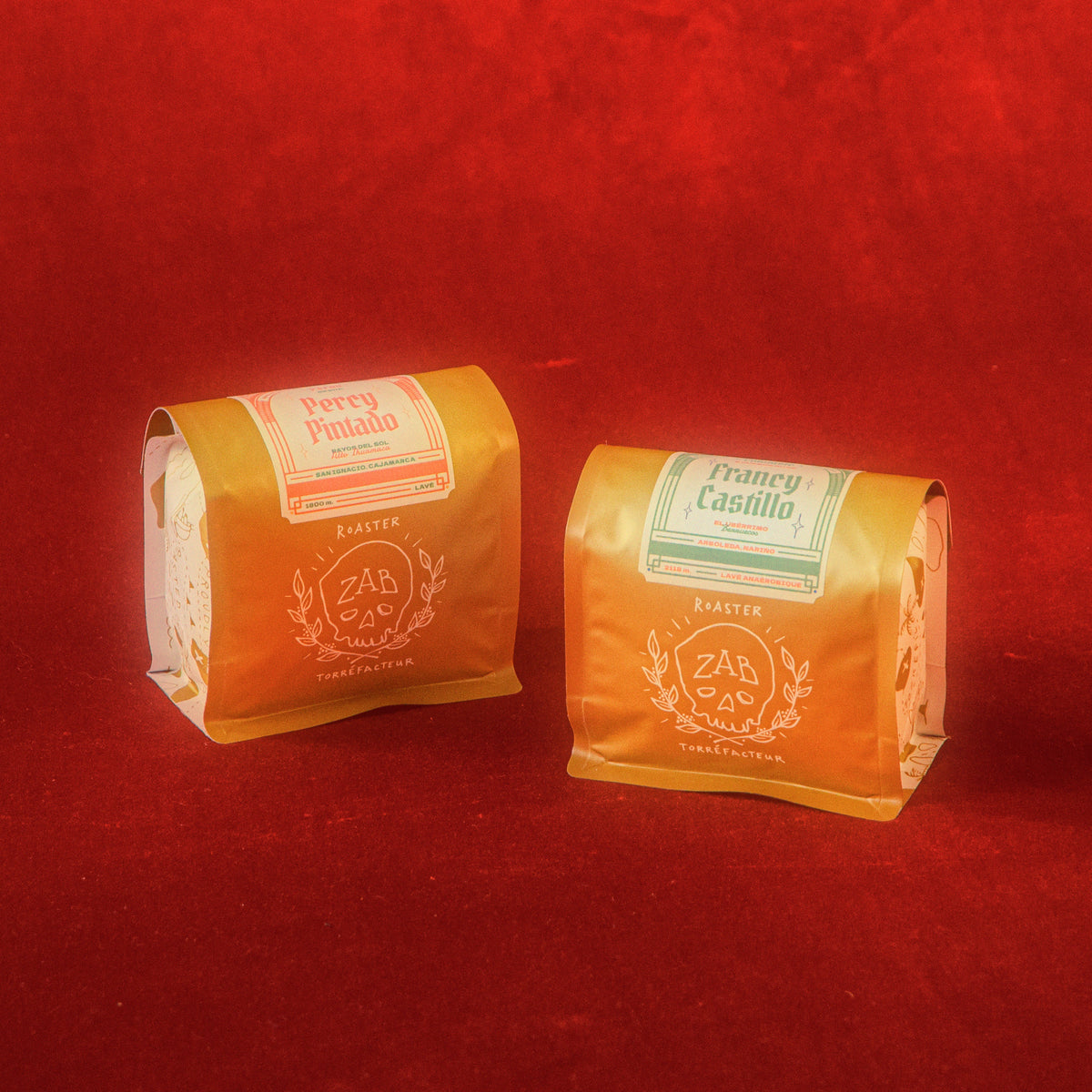 **PRE-ORDER** LEGENDARY HOLIDAY BOXSET 2023 - LIMITED EDITION
Regular Price

$72.00

Sale Price

$72.00

Regular Price

Unit Price

per
**50 boxsets are available on pre-order**
The coffees will be roasted on the December 7th, and the boxsets will be delivered/shipped during the week of December 11th.
Do not include other items unless you want to receive everything at the same time.
The perfect gift for those who wish to be swept off their feet and completely mind blown while sipping on their cup of coffee! As you know, we have made it a habit of finding exceptional coffees to fill our gold bags with, and we've kept our bests for this LEGENDARY boxset.
Included in the boxset: a duo of stunning coffees (200G each) and a YŌKAI-RŌSUTĀ mug designed by Carole Platine, a global exclusivity!
---
COLOMBIA - FRANCY CASTILLO

APRICOT + PINEAPPLE + ROSE + SPARKING WHITE WINE

SOURCING


ORIGIN
City of Berruecos, Municipality of Arboleda, Department of Nariño, Colombia
PRODUCERS
Francy Castillo
FARM
El Ubérrimo
VARIETALS
Pink bourbon
PROCESS
Washed anaerobic
ALTITUDE
2118 MASL
PARTNERS
Apex Coffee Imports
LOT SIZE PURCHASED
144 KG
FOB
6.49$ US/LB
PRICE DELIVERED
12.52 CAD/LB
RELATIONSHIP
2 years / 2 lots
The Pledge : transparency.coffee
Our connection with this coffee is rather special. During the summer of 2023, we had the privilege of being welcomed to Colombia, in the Nariño region, by none other than the remarkable Francy Castillo. Following her enthusiastic steps and listening to her vibrant laughter, we ascended to 2000 meters above sea level through a narrow and challenging trail, ultimately arriving at her coffee farm. The view through the mountains was incredible, and Francy's hospitality even more remarkable.

Therefore, with much affection, we present to you our favorite coffee from Francy—a pink bourbon that we had the opportunity to taste not only directly from the cherry but also later roasted by Francy herself during a cupping session. The complexity of the coffee and its aromatic profile are amazing. From guava to pineapple, rose to a small white flower, a lively yet juicy acidity, it's a coffee that provides an endless mouthfeel. It's vibrant, full of energy, an experience, much like our friend Francy.


RECOMMENDED PARAMETERS FOR POUR-OVER

| | |
| --- | --- |
| GROUND COFFEE | 20 G |
| WATER QUANTITY | 320 G |
| EXTRACTION TIME | 3 MINUTES |
---
PERU – PERCY PINTADO

BERGAMOT + JASMIN + ORANGE BLOSSOM + HONEY

SOURCING


ORIGIN
City of Alto Ihuamaca, District & province of San Ignacio, department of Cajamarca, Peru
PRODUCERS
Percy Pintado
FARM
Rayos del Sol
VARIETALS
Gesha
PROCESS
Washed
ALTITUDE
1800 MASL
PARTNERS
Apex Coffee Imports
LOT SIZE PURCHASED
90 KG
FOB
15.00$ US/LB
PRICE DELIVERED
25.42 CAD/LB
RELATIONSHIP
1 year / 1 lot
The Pledge : transparency.coffee
Percy Pintado is a third-generation coffee producer, based in the charming municipality of Alto Ihuamaca, located in the San Ignacio district of Peru. Since 1996, he has been managing his own 5-hectare farm, where his three children now also work. Various coffee varieties, including Bourbon, Caturra, Catimor, and a small plot of Gesha are grown on his land. During the harvest season, five employees join the team to assist with the picking. The Geisha cultivated by Percy perfectly embodies the harmonious blend of the classic profile of this coffee variety and the unique terroir of northern Peru where it thrives.

For the past seven years, Percy has taken on the role of leader within the Alto Ihuamaca committee of Origin Coffee Lab's educational program. Origin Coffee Lab is a Peruvian coffee export company in partnership with our importer, Apex Coffee Imports. Producers participating in their program receive training in good agricultural practices, quality assessments of their coffee, and easier access to the market. Furthermore, Origin Coffee Lab actively invests in social and environmental initiatives and innovative sustainability practices, placing producers at the heart of their operations.

This lot is one of those complex coffees where it's challenging to confine oneself to just a few notes. Initially, floral hints reminiscent of jasmine and orange blossom are perceived, followed by a touch of bergamot and orange zest. The tasting experience concludes with a sweet note that fluctuates between the complexity of honey and that of a small, sweet biscuit. Drinking this delicate cup of Gesha is a true pleasure.


RECOMMENDED PARAMETERS FOR POUR-OVER

| | |
| --- | --- |
| GROUND COFFEE | 20 G |
| WATER QUANTITY | 320 G |
| EXTRACTION TIME | 3 MINUTES |
---
YŌKAI-RŌSUTĀ MUG- Olde Milk-Glass Co.

Originally produced in Japan between the 1940s and 1970s, the Olde Milk brand has been reintroduced to the market by Tsunagu Craft, Inc., a small Japanese artisan group operating within the Olde Milk-glass studio located in Kumamoto Prefecture. The mugs are handmade in glass milk from using traditional American glassblowing techniques.
* Not meant to be put in the dishwasher or in the microwave